Notice of Temporary Service Change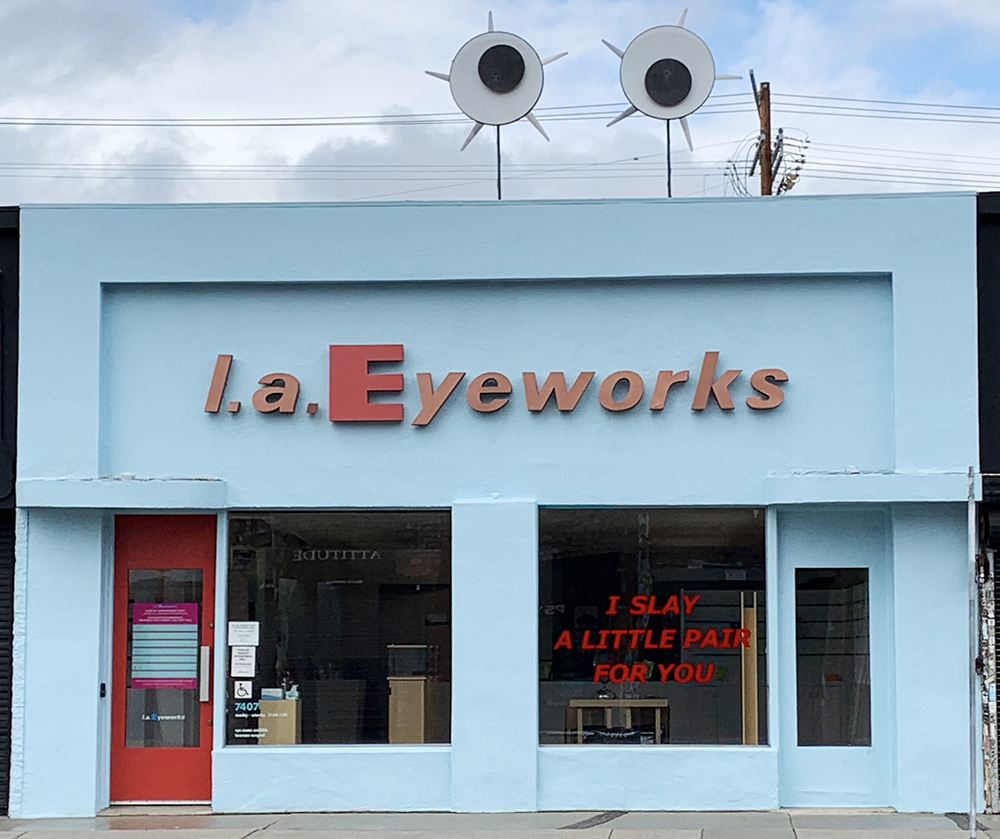 * TEMPORARY RETAIL SERVICE NOTICE *
Dear friends of l.a.Eyeworks,

Beginning April 1, 2021, we will temporarily be serving all of our customers exclusively at the original l.a.Eyeworks store (aka the "Mothership") at

7407 Melrose Avenue, 90046
tel. (323) 653-8255, melrose@laeyeworks.com

The l.a.Eyeworks flagship location at 7386 Beverly Boulevard will be on temporary hiatus after March 31st. Calls and e-mails to the Beverly location will be forwarded automatically to the Melrose Avenue store for speedy reply.

Although there is light on the horizon, we anticipate it will be a few more months before we can welcome you in a more expanded atmosphere. Until then, consolidating our resources on a temporary basis in one location will allow us to continue serving you safely and more effectively as we prepare both locations for the "post-COVID" era. We eagerly look forward to announcing a re-opening of the Beverly Boulevard location as soon as possible.

We are proud to have conducted our business safely under a vigorous set of protocols since May 2020, and we are deeply grateful to all of you who have trusted us to guide your optical journey through this most extraordinary, historic time.

You will find following more specific details about this temporary change in service, and we are prepared to assist you with any questions or concerns you may have.

We look forward to seeing you soon!

What if I have an existing order at Beverly Boulevard?

If you have an order in process, it will be transferred safely to Melrose Avenue on April 1. Notifications of order status by phone, text, and e-mail will continue as before. If you have been contacted to pick up an order, we kindly encourage you to do so before March 31st if possible.

What about my client history I've established at Beverly Boulevard?

With careful planning and access to your client records, we are focused on providing complete continuity of care for you and to making your experience at the Melrose Avenue location as seamless as possible.

Where is the Melrose Avenue store?

The Melrose Avenue store is a mere five blocks north of the Beverly location at 7407 Melrose Avenue, 90046. Limited parking may be available behind the store (enter via the alley at Martel). Metered and side street parking is also easily accessible.

Are there COVID protocols in place at Melrose, too?

Absolutely. We continue to offer visits on an appointment-only basis (please contact us to schedule a time convenient to your calendar). Entry into the store requires a face mask covering your nose and mouth, physical distancing, and a temperature check and splash of hand sanitizer upon entry. All frames you will come into contact with have been sanitized.

Is there an alternative to going to the Melrose Avenue location?

From curbside drop-offs to shipping to more "remote" styling options, we are happy to discuss alternatives to accommodate your needs.

When will the Beverly Boulevard location reopen?

At present, our best estimate is within 2-3 months, depending on the progression of the health crisis and other factors. An announcement will be sent to e-mail subscribers to notify you in advance of the happy date!
Join our mailing list at the bottom of this page.